I have made several educational useful videos and photo tutorials to help people, which can be browsed on my own YouTube channel (basic babywearing how-tos and vlogs) as well as a wide range on my local Sheffield YouTube channel (I run a sling library there).
I am adding more and more short videos to my Instagram reels and IGTV, link here.
If you are looking for a specific video for a particular type of sling, please see the categories below.
I would highly recommend a look at my safe carrying page for guidance on how to keep your child safe in a sling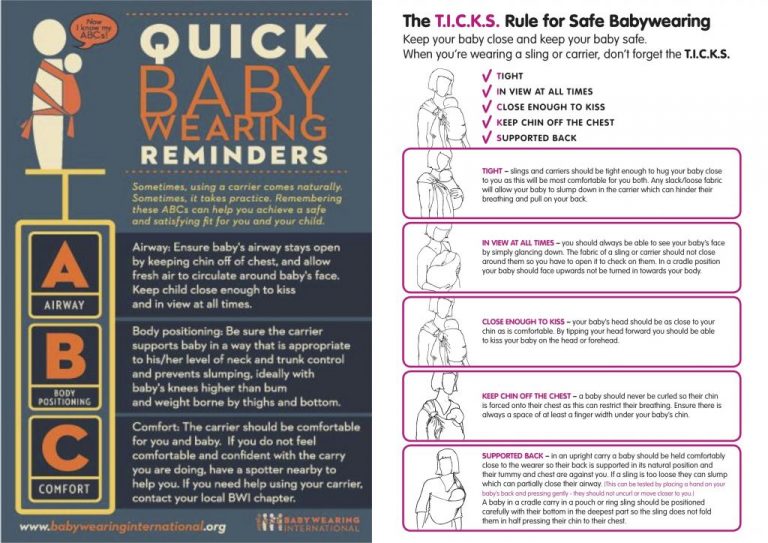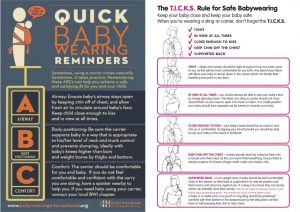 .
Here are some safety reminders, please ensure you know how to protect your baby's airway and ensure a good position for them before you use a sling.
Please note that these videos are to be used at your own risk. There is no substitute for hands-on help! Always keep your child safe.
Here are some reminders of the positioning of babies and children in carriers.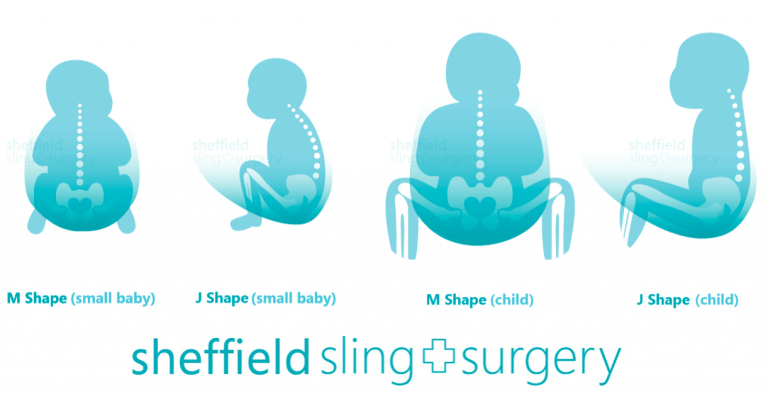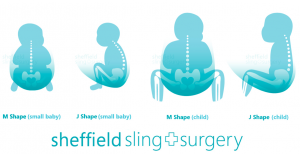 Young babies should be held in this supportive tucked position that respects their natural anatomy. The M shape describes the shape of the legs; with knees higher than bottom. This is how babies naturally position themselves when they are relaxed and held in arms, or resting on the floor or in reclined seats. A newborn has a much narrower M shape than an older baby (and each baby will open his/her hips at his/her own pace).
The J shape describes the shape of the head and spine; a gentle curve with the pelvis tucked under. Having a tuck at the base means that the heavy head is less likely to slump over. Chin can be kept up and the chest cavity kept open and uncompressed.
Here is a reminder about the Pelvic Tuck (with videos)
Carries with a Stretchy Wrap
Many parents love to use a stretchy wrap for their newborn; it is very comfortable as it distributes the weight widely around the body . It is also very snuggly for babies and reminiscent of the warmth and gentle pressure all around that they enjoyed in utero.
They are not hard to use; these videos will show you how to put stretchy wraps on safely, how to fix them if baby feels too low, and how to use the stretchy as a breastfeeding aid without needing to remove the sling (please note the safety advice in that video!)
Silent, captioned video with baby, showing you how to put two-way stretchy on and how to put baby in
Voice and video with doll, showing you how to ensure good positioning every time.
LIST OF VIDEOS WITH A STRETCHY (INCLUDING SAFE FEEDING)
How to breastfeed a baby using the stretchy wrap as a supportive aid
Ensuring a good pelvic tuck position with a stretchy wrap
CARRIES WITH A CLOSE CABOO
---
Soft Structured Carriers (Buckles/Tie Straps)
The videos in this section look at soft structured carriers (full buckle carriers and meh dais/bei dais (formerly known as mei tais), showing you how to use them for front, hip and back carries, as well as how to make a good seat in a carrier with the pelvic tuck.
FRONT, HIP AND BACK CARRIES WITH A WAISTBANDLESS CARRIER (eg Integra/Connecta/Pouchlings etc)
Front Carries with a waistbandless carrier
Hip and Back carries with a waistbandless carrier
FRONT CARRIES WITH WAISTBANDED CARRIERS (CROSS AND RUCK STRAPS)
Front Carry with a Waistbanded Cross Strap Carrier (Sleepy Nico, Mamaruga, Beco, etc)
Front Carry with a Rucksack strap carrier (Tula, Boba 4G, Lillebaby, Emeibaby, etc)
Raising baby up in panel if baby is too short for it – photo tutorial
BACK CARRIES WITH BUCKLE CARRIERS 
Watch Rosie do a quick back carry with a preschooler and a waistband carrier (works well for willing older children!)

CARRIES WITH A MEH DAI/HALF BUCKLE
Front Carries with a Meh Dai/Half Buckle
Hip/Back Carries with a Meh Dai/Half Buckle
 Ring Sling Carries
Ring slings are a popular choice with parents wanting something simple yet versatile, and they can be used from newborn to toddlerhood and beyond. There is often a learning curve to making them as comfortable and safe as possible; the videos in this section will show you how to use them well. Practice makes perfect and sometimes some one-to-one help can make all the difference. Here you can enjoy a video as if you were having a consultation how to use a ring sling with Rosie and Lucy.
CARRIES WITH A RING SLING
Carries with a Woven Wrap
Woven wraps are very versatile and can be used for children of every age, from newborn to preschooler, on the front, hip and back. They come in several different lengths –read more here.
In this selection Rosie demonstrates just a few of the possibilities and links to other excellent videos to help you make the most of your woven wrap.
FRONT CARRIES WITH A WOVEN WRAP
HIP CARRIES WITH A WOVEN WRAP 
BACK CARRIES WITH A WOVEN WRAP
Sheffield Sling Surgery videos
Your own local sling library/consultant for more support can be found at the Sling Pages