I am a Carrying Advocate and Babywearing Peer Supporter trainer, working under the Born To Carry banner. (This is a training provider of excellence in babywearing skills, bringing together some of the most experienced babywearing teachers and facilitators in the UK). I have trained hundreds of peer supporters. These range from interested parents who want to volunteer or help their own friends, massage therapists, early years providers, health care professionals (health visitors, midwives, doulas etc) and those who want to set up their own local sling libraries.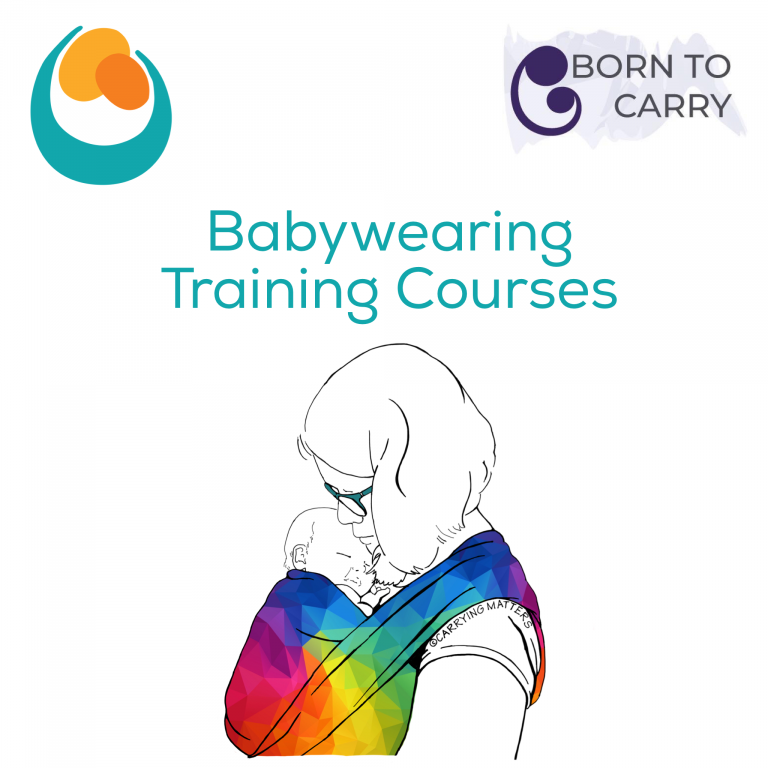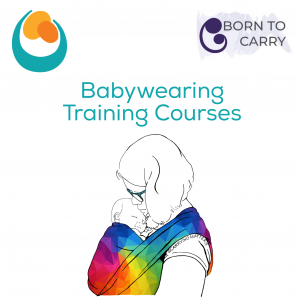 During the pandemic, much learning has had to move online, and my training courses are no exception.
There are two courses available.
---
The first is a comprehensive introduction to babywearing theory and safety, which will give an excellent grounding for becoming an advocate for carrying behaviour and how slings can help promote health and wellbeing. It also provides an in-depth introduction to the major types of carrier and how to use them. This is open to everyone, and can be completed at your leisure. There are short tests of your knowledge as you proceed through the course and a final assessment to complete the course for a certificate.
This will suit many people who wish to enhance their knowledge and understanding, become evidence-based babywearing advocates, be able to signpost to local libraries with more confidence, and are not planning to offer in-person support to families on a regular basis.
This course is not timed, and can be done at your own schedule and to your own pace.
Please be aware that this course is not a Peer Supporter course and the certificate cannot be presented as such.
This course is not sufficient on its own for anyone planning to offer any form of movement classes with babies in slings.
---
The second is a practical peer supporter training session, currently being delivered online in small groups, via Zoom. This practical session focuses on actively supporting new parents with hands-on-help, and is required to become a Peer Supporter. Regular dates for these sessions will be available to sign up for. The theory and safety course must have been completed before doing this section.
These sessions can be arranged for a single group who want to focus on a particular need (such as health care professionals only, using one type of carrier) or for a group who wish to learn together.
Satisfactory completion of this course and the assessment will generate a certificate of competence as a Babywearing Peer Supporter.
The courses are purchased separately, to give as much flexibility as possible.
---
Introduction to babywearing theory and safety – online course, £40
Welcome Module.
Why Carrying Matters Module/Fourth Trimester Module.
Introduction to Basic Babywearing Safety.
The Role of the Peer Supporter/Consultant.
The Different Types of Slings And How To Use Them.
Special Circumstances.
Assessment Module (to confirm learning)
Peer Supporter Practical Session (to be done in person, or via video link), £55 per person, half a day.
Ass

essing skills in using the main types of carrier

Learning how to support others and troubleshoot effectively.

Assessment Module (via the Born to Carry website) to ensure receipt of information and ensure the high standards of training from the Born to Carry organisation are met.
Enrol onto the Theory and Safety Course (£40)
Contact me for dates for the Practical Peer Supporter Training
Rosie was such a lovely instructor. she was welcoming, kind and friendly, she made the course very enjoyable and along with the other ladies present it was a very warm, informal and fun learning enviroment and i would recommend the course to anyone wanting to learn a bit more about the world of babywearing.
---
FAQ
Do I need to do both modules?
It depends what you need from the training. If you wish to be a Peer Supporter, yes, you will.
Can I just do the online theory and safety course?
Yes, this will generate a certificate of competence in babywearing theory and safety, which may be all you need. You will have a good grounding in why babywearing is so useful, based in evidence, a solid understanding of how to keep a baby safe in the major types of sling and be able to advocate and signpost to further resources.
I want to support new parents to choose a good sling, and become confident in putting their slings on, or set up a sling library. What modules do I need?
You will need to do both the theory and practical modules, as this is what Peer Supporters do!
I want to offer classes for new parents and their babies with slings as part of the class. Is the online module enough?
No. You must do the full Peer Supporter training. This online course will not be enough on its own, as hands-on skills and careful planning of classes are needed. Adding any movement with a sling beyond walking increases the potential for harm. Babies and their caregivers' wellbeing should be the primary concern for such classes, and they should not be placed at risk by inadequate training.
Do I need to do both the online and practical modules at the same time?
This is up to you! Some people will opt to do the theory modules at their own pace, and then decide if they want to do the practical modules. If you wish to do the full course, it will help to have the online theory fresh in your mind before you come to the practical session. You must have completed the theory before the practical session.
Can I have a practical session tailored to the specific need of my group (eg neonatal nurses, health visitors or for dance classes, etc?)
Absolutely, you can do the online theory and safety course and then have your own group practical session with me, please get in touch to discuss your needs. Please be aware that I am a working GP and can only offer a certain number of practical sessions per year.
The Carrying Advocacy Peer Supporter Course has several aims. One is to understand why carrying matters so much in the vital task of building a happy brain – we look at some of the neuropsychology and biochemistry behind it all. Slings can help to facilitate this. Another is to enable people to give robust, safe advice about babywearing and infuse the people they meet with excitement and confidence about using a sling, and help them use it safely and confidently. It is not a consultancy course (therefore does not cover advanced techniques such as back carrying or complex woven wrap techniques), but is designed to equip trainees with the tools they need to be able to support the parents they meet. It covers topics such as:
the benefits of babywearing
the physiological principles of baby positioning to protect airway, spine and hips
confidence with the most common types of sling
practical demonstrating skills
demonstrating and discussing the safe use of slings in many circumstances (eg feeding)
troubleshooting common difficulties
assessing boundaries and responsibilities
babywearing in a historical/sociopolitical context
Those who attend this course, complete the post-course assessment and receive their certificate of completion are eligible for insurance from three providers.
Dance and exercise classes with slings
Please read this first if you are considering setting up one of these classes. The safety of child and parent is paramount at all times and there is simply too much to cover when the class instructor is not already very familiar with slings and aware of the risks involved (this is more than just being aware of the "TICKS" guidelines). If you want to discuss whether you are suitable for entry on this course please email me before you book. I reserve the right to refuse training.
"I really enjoyed trying different carriers. I found the trouble shooting sections particularly interesting and fun. I learnt a lot and feel more confident with all carriers and especially with how to wrap a new born.
I really loved it and now want to do the consultant training even more. Rosie was clearly very enthusiastic and dedicated and made everything so interesting. She was pretty inspiring."
---
"Everything I had hoped for was met, I feel like a peer supporter now, not just someone who loves slings!"
---
"Hi Rosie, I couldn't go to bed without sending you a note to say a huge thank you for the course today. I've never felt more included and welcome and I'm so thrilled I came along. Thank you for your hospitality and brilliant teaching, I'm raving about babywearing to my husband and cannot wait to volunteer at a meet soon."
---
"I loved the content of the day, the discussions, playing with different slings, learning new ways of slinging, wrapping etc. The course was well run, well organised and I felt empowered to speak, share and question."
---
"I feel much more confident in my knowledge of both the benefits of babywearing, and how to go about enabling parents."
---
"I really enjoyed meeting other like minded people. I liked the theory of babywearing as it related closely to the work I do as Breastfeeding Lead in the NHS. I enjoyed trying all the different slings and carriers and understanding in what situations they would be used."
"Rosie was born to teach people. Simply fantastic in the way information was relayed. Would highly recommend."
---
"The whole day was so good! A key element was the ability to see and try so many different types of slings and to have time to go through basic principles regarding how to use them all. The role play aspects where we were able to troubleshoot carrier problems was also very useful."
---
"My personal learning aims were met, it exceeded my expectations. I found the course was extremely enjoyable and covered so much subject matter but was not overwhelming. My aims were well and truly met. I now believe I could give a new babywearer good/correct advice and help in ways I was unsure about prior to the course."
---
"Having someone with your experience and knowledge available all day to ask questions and watch demo was incredible. I really enjoyed the contextual and historical information about Babywearing and what led us all into that room that day. It put everything into the 'bigger picture' and made me feel such a part of the huge Babywearing community. Having such a massive amount of slings in the room to try and compare was utterly invaluable – such a rare opportunity. I thought the balance between practical and theory was absolutely spot on. As someone who's very interested in the sociopolitical aspects of Babywearing I was really pleased to see this covered in the course and really appreciated that you placed Babywearing so firmly in this context during the day."
---
"The course really opened my eyes to consider the needs of individuals and how essential it is to be inclusive and approachable and gave me the tools to do this confidently (especially regarding narrow base carriers). It was useful to be shown how to exaggerate movements and words when teaching and to have the opportunity to practice this. Rosie's enthusiasm was infectious and made the whole day very engaging. The size of the group worked well and I especially enjoyed how well we all got on."